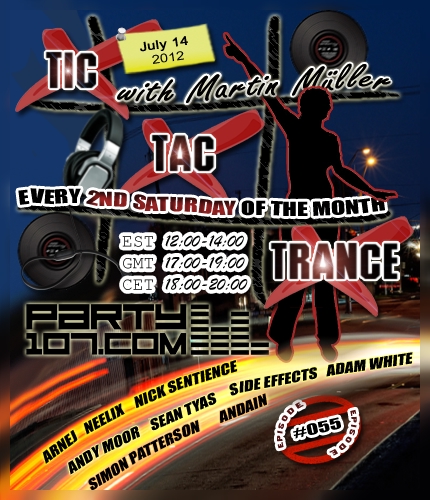 It's almost there! Episode #055 of Tic Tac Trance will be broadcasted on July 14 2012 on Party107 and will feature new tunes of artists like Arnej, Neelix, Nick Sentience, Andy Moor, Sean Tyas, Side Effects, Adam White, Simon Patterson, Andain and many more! This time I've prepared a 2 hours mix with my latest favorites in progressive, uplifting, psy and tech trance. Make sure to tune in!
My show airs TODAY at 18 CET / 17 GMT / 12 EST.
Check out your local time HERE!
You will be able to tune in with these links:
High-Speed

192kbps MP3 – iTunes/Winamp/VLC/RealPlayer/Windows Media/Other
160kbps MP3 – iTunes/Winamp/VLC/RealPlayer/Windows Media/Other
~96kbps (Q2) Ogg Vorbis – Winamp/VLC/foobar2000/iTunes/Other
~64kbps (Q0) Ogg Vorbis – Winamp/VLC/foobar2000/iTunes/Other

Modem/Dial-Up

32kbps MP3 – iTunes/Winamp/VLC/RealPlayer/Windows Media/Other
32kbps Ogg Vorbis – Winamp/VLC/foobar2000/iTunes/Other

Firewall Bypass (Port 80) Stream

160kbps MP3 – iTunes/Winamp/VLC/RealPlayer/Windows Media/Other

IPv6 Streams

192/160/32kbps MP3 – iTunes/Winamp/VLC/RealPlayer/Windows Media/Other