The replay of the latest episode of Tic Tac Trance is now available HERE and at Mixcloud.com/TicTacTrance!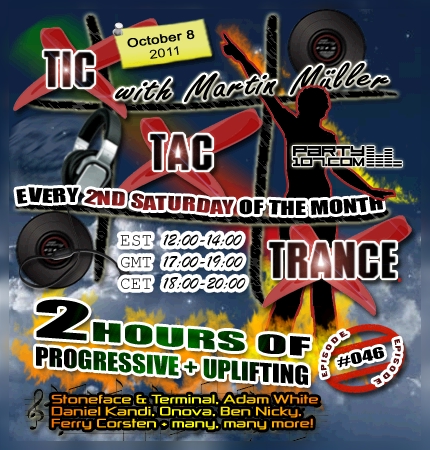 It's almost time again for another episode of Tic Tac Trance! Episode #46 will air on October 8 2011 and will feature two hours full of my current favorite trance & progressive tunes. You can expect music from artists like Stoneface & Terminal, Adam White, Daniel Kandi, Onova, Ben Nicky, Ferry Corsten and many, many more! Don't forget to tune in!
My show airs TODAY at 18 CET / 17 GMT / 12 EST. Check out your local time HERE!
You will be able to tune in with these links:
High-Speed

192kbps MP3 – iTunes/Winamp/VLC/RealPlayer/Windows Media/Other
160kbps MP3 – iTunes/Winamp/VLC/RealPlayer/Windows Media/Other
~96kbps (Q2) Ogg Vorbis – Winamp/VLC/foobar2000/iTunes/Other
~64kbps (Q0) Ogg Vorbis – Winamp/VLC/foobar2000/iTunes/Other

Modem/Dial-Up

32kbps MP3 – iTunes/Winamp/VLC/RealPlayer/Windows Media/Other
32kbps Ogg Vorbis – Winamp/VLC/foobar2000/iTunes/Other

Firewall Bypass (Port 80) Stream

160kbps MP3 – iTunes/Winamp/VLC/RealPlayer/Windows Media/Other

IPv6 Streams

192/160/32kbps MP3 – iTunes/Winamp/VLC/RealPlayer/Windows Media/Other