The replay of the latest episode of Tic Tac Trance is now available HERE and at Mixcloud.com/TicTacTrance!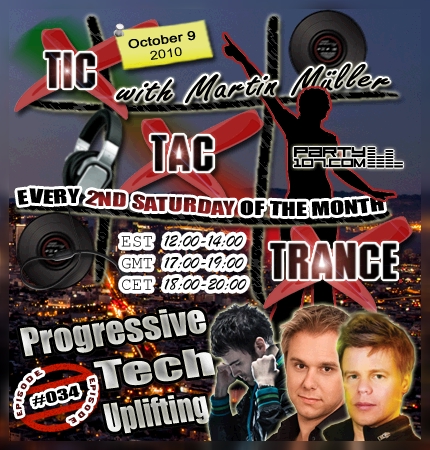 This month's Tic Tac Trance episode will be a 2 hours musical journey with a small amount of progressive & tech and a big part of uplifting, peak time, trance. You can expect new productions and remix by artists like Armin van Buuren, Ferry Corsten, Gareth Emery, Fast Distance, Adam White and many many more! So don't forget to tune in to episode #34 of Tic Tac Trance on October 9 2010 @ Party107.com!
My show airs on TODAY at 18 CET / 17 GMT / 12 EST. Check out your local time HERE!
You will be able to tune in with these links:
High-Speed

160kbps MP3 – iTunes/Winamp/VLC/RealPlayer/Windows Media/Other
~96kbps (Q2) Ogg Vorbis – Winamp/VLC/foobar2000/iTunes/Other
~64kbps (Q0) Ogg Vorbis – Winamp/VLC/foobar2000/iTunes/Other

Modem/Dial-Up

32kbps MP3 – iTunes/Winamp/VLC/RealPlayer/Windows Media/Other
32kbps Ogg Vorbis – Winamp/VLC/foobar2000/iTunes/Other

Firewall Bypass (Port 80) Stream

160kbps MP3 – iTunes/Winamp/VLC/RealPlayer/Windows Media/Other