The replay of the latest episode of Tic Tac Trance is now available HERE and at Mixcloud.com/TicTacTrance!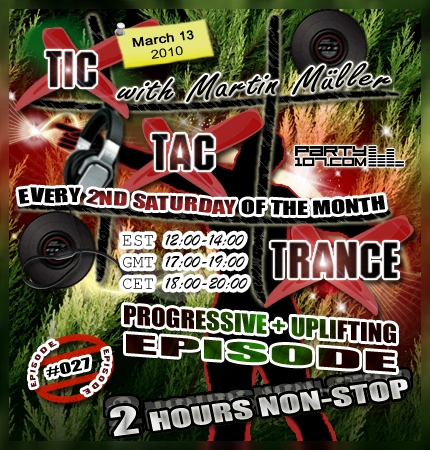 It's almost time again for another episode of Tic Tac Trance! Episode #027 will be broadcasted on March 13 2010 on Party107.com and will feature an 2 hour mix by myself. This two hour melodic journey will start at proggy 128 beats per minute and ends with peak time uplifters!
For this musical madness you can expect some new tunes from labels like Enhanced, Finity, Black Hole, Discover, Solaris and many, many more!
My show airs TODAY at 18 CET / 17 GMT / 12 EST. Check out your local time HERE!
You will be able to tune in with these links:
High-Speed

160kbps MP3 – iTunes/Winamp/VLC/RealPlayer/Windows Media/Other
~96kbps (Q2) Ogg Vorbis – Winamp/VLC/foobar2000/iTunes/Other
~64kbps (Q0) Ogg Vorbis – Winamp/VLC/foobar2000/iTunes/Other

Modem/Dial-Up

32kbps MP3 – iTunes/Winamp/VLC/RealPlayer/Windows Media/Other
32kbps Ogg Vorbis – Winamp/VLC/foobar2000/iTunes/Other

Firewall Bypass (Port 80) Stream

160kbps MP3 – iTunes/Winamp/VLC/RealPlayer/Windows Media/Other