My radiostation Party107.com needs help!
The company that Party107 trusted for years to provide music licensing/royalties has closed their business out of the blue with no advance notice. This has caused the radio stream links to become unavailable for legal reasons.
Stations like Party107 are required to pay royalties for every listener that listens to every song we play. This is true even for stations like us who make no money from operating. Music licensing and server infrastructure make up the monthly cost that it takes to keep us on the air.
Party107 ist working as quickly as possible on figuring out alternate licensing arrangements, however the current options will significantly increase our operating costs on the order of at least 3-4x more than our previous costs. This is unfortunately not sustainable without your help.
If you want to support my radiostation and Tic Tac Trance, please donate over HERE.
The result is, that my upcoming radioshow Tic Tac Trance #139 will not air live on July 13 2019 on Party107.
I make the show directly available on Soundcloud and Mixcloud for streaming. There will be no download options anymore, because of the missing licensing arrangements.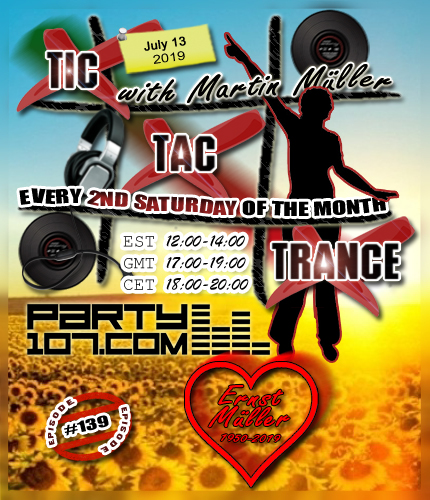 Tic Tac Trance returns on July 13 2019 with episode #139 on Party107.com. This episode is dedicated to my father Ernst Müller, who passed away in June 2019. Dad, I miss you and you'll never be forgotten! Music wise this show features an uplifting 2 hours underground trance mix. Make sure to tune in!
My show will air on July 13 2019 at 18 CET / 17 GMT / 12 EST.
Check out your local time HERE!
Click HERE to join the event on Facebook!
Live tracklist updates during air time HERE!
You will be able to tune in with these *updated links*:
192kbps MP3 – iTunes/Winamp/VLC/Windows Media/Other
160kbps MP3 – iTunes/Winamp/VLC/Windows Media/Other
~96kbps (Q2) Ogg Vorbis – Winamp/VLC/foobar2000/iTunes/Other
~64kbps (Q0) Ogg Vorbis – Winamp/VLC/foobar2000/iTunes/Other

Modem/Dial-Up

32kbps MP3 – iTunes/Winamp/VLC/Windows Media/Other
32kbps Ogg Vorbis – Winamp/VLC/foobar2000/iTunes/Other

IPv6 Streams

192/160/32kbps MP3/Vorbis – iTunes/Winamp/VLC/Windows Media/Other