The replay of the latest episode of Tic Tac Trance is now available HERE and at Mixcloud.com/TicTacTrance!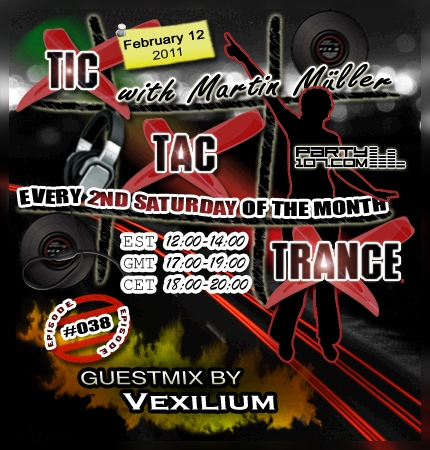 I'm pleased to announce that Tic Tac Trance #038 on February 12 will feature a guestmix by Vexilium! He's pretty much known for his mashups, which get supported by DJs like Corderoy, 7 Skies and Roger Shah. That means you can expect some special mashups for the second half of the show! For the first hour I've prepared a mixture of my current progressive, techy and uplifting tunes. I'll also present my new mashup "Cosmic Gate vs. Tom Colontonio – Exploration Of That Shit"!
My show airs TODAY at 18 CET / 17 GMT / 12 EST. Check out your local time HERE!
You will be able to tune in with these links:
High-Speed

160kbps MP3 – iTunes/Winamp/VLC/RealPlayer/Windows Media/Other
~96kbps (Q2) Ogg Vorbis – Winamp/VLC/foobar2000/iTunes/Other
~64kbps (Q0) Ogg Vorbis – Winamp/VLC/foobar2000/iTunes/Other

Modem/Dial-Up

32kbps MP3 – iTunes/Winamp/VLC/RealPlayer/Windows Media/Other
32kbps Ogg Vorbis – Winamp/VLC/foobar2000/iTunes/Other

Firewall Bypass (Port 80) Stream

160kbps MP3 – iTunes/Winamp/VLC/RealPlayer/Windows Media/Other