The replay of the latest episode of Tic Tac Trance is now available HERE and at Mixcloud.com/TicTacTrance!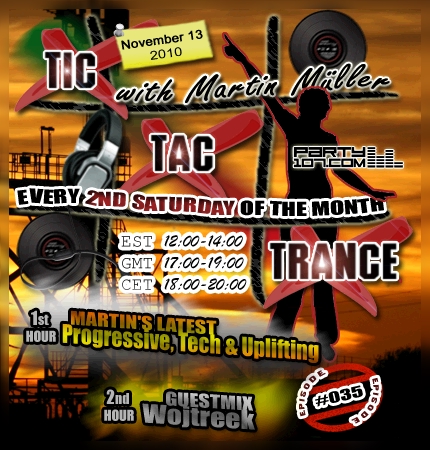 On November 13, 2010 episode #035 of Tic Tac Trance will air on Party107.com! This time I'm glad to announce that Wojtreek will handle the guestmix in the second half of the show. He'll spin uplifting trance with an little amount of psy-trance surprises. My own trance set in the first half of the show will include a mixture of progressive, techy and uplifting tunes by artists like Maor Levi, RAM, Indecent Noise and many, many more!
My show airs TODAY at 18 CET / 17 GMT / 12 EST. Check out your local time HERE!
You will be able to tune in with these links:
High-Speed

160kbps MP3 – iTunes/Winamp/VLC/RealPlayer/Windows Media/Other
~96kbps (Q2) Ogg Vorbis – Winamp/VLC/foobar2000/iTunes/Other
~64kbps (Q0) Ogg Vorbis – Winamp/VLC/foobar2000/iTunes/Other

Modem/Dial-Up

32kbps MP3 – iTunes/Winamp/VLC/RealPlayer/Windows Media/Other
32kbps Ogg Vorbis – Winamp/VLC/foobar2000/iTunes/Other

Firewall Bypass (Port 80) Stream

160kbps MP3 – iTunes/Winamp/VLC/RealPlayer/Windows Media/Other