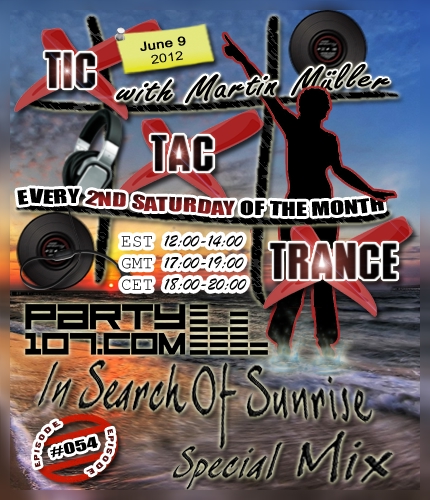 The In Search Of Sunrise Special Edition of Tic Tac Trance #054 will air on June 9 @Party107 and will feature in the first hour a megamix with current tunes released by labels like Enhanced, Perfecto, Subculture, Night Vision and many many more! For the second hour I will present you a big part of my "In Search Of Sunrise 10" CD-Mix, which was originally done for Richard Durand's ISOS Competition.
My show airs TODAY  at 18 CET / 17 GMT / 12 EST.
Check out your local time HERE!
You will be able to tune in with these links:
High-Speed

192kbps MP3 – iTunes/Winamp/VLC/RealPlayer/Windows Media/Other
160kbps MP3 – iTunes/Winamp/VLC/RealPlayer/Windows Media/Other
~96kbps (Q2) Ogg Vorbis – Winamp/VLC/foobar2000/iTunes/Other
~64kbps (Q0) Ogg Vorbis – Winamp/VLC/foobar2000/iTunes/Other

Modem/Dial-Up

32kbps MP3 – iTunes/Winamp/VLC/RealPlayer/Windows Media/Other
32kbps Ogg Vorbis – Winamp/VLC/foobar2000/iTunes/Other

Firewall Bypass (Port 80) Stream

160kbps MP3 – iTunes/Winamp/VLC/RealPlayer/Windows Media/Other

IPv6 Streams

192/160/32kbps MP3 – iTunes/Winamp/VLC/RealPlayer/Windows Media/Other