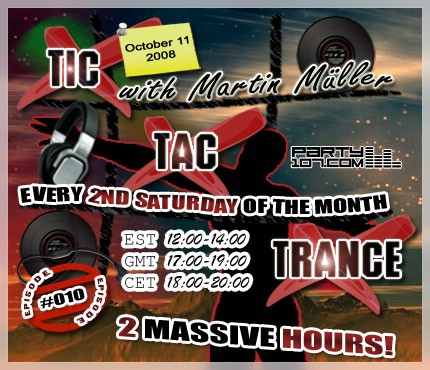 It's almost time again for another episode of Tic Tac Trance! Episode 10 will be broadcasted on October 11 2008 on Party107 and will feature a 2 hour mix from myself. Like always my set will feature the newest and lastest records and some exclusive upfront material. This two hour melodic journey will start at proggy 127 beats per minute and ends with pumping and uplifting 140 BPM tracks.
Tic Tac Trance #010 on October 11 will feature tunes from artists like: Ferry Tayle, Breakfast & Mike Saint Jules, Robert Vadney (upfront album sample record!), Dave 202, Sundriver, Redstar, Singularity, Coldplay bootleg action and some surprises!
The show will start at 18 CET / 17 GMT / 12 EST on October 11. Check out your local time HERE!
You will be able to tune in with these links:
High-Speed

160kbps MP3 – iTunes/Winamp/VLC/RealPlayer/Windows Media/Other
~96kbps (Q2) Ogg Vorbis – Winamp/VLC/foobar2000/iTunes/Other
~64kbps (Q0) Ogg Vorbis – Winamp/VLC/foobar2000/iTunes/Other

Modem/Dial-Up

32kbps MP3 – iTunes/Winamp/VLC/RealPlayer/Windows Media/Other
32kbps Ogg Vorbis – Winamp/VLC/foobar2000/iTunes/Other